Navigation
This blog aims to help yoga fans to choose suitable yoga mats for yoga practice. It discusses yoga mats in the below aspects, such as material, thickness, use situation, and the differences between yoga mats and rope skipping pads. At the end of this blog, we will provide some small tips about cleaning and maintaining your yoga mats.
What Are the Differences Between Yoga Mats and Rope Skipping Pads?
The main difference between these pads is their thickness. Usually, the thickness of the rope skipping pad is 7-8mm; it will help exercisers to keep balance and to protect human joints at the same time. While the thickness of the yoga mat is 1-5mm, it will be softer and more comfortable compared with the rope skipping pad; it makes yoga fans feel less outside pressure when doing yoga. And the use of these two pads is also different. A string skipping pad can be used in rope skipping, bodybuilding, aerobics jumping, and so on, while a regular non slip yoga mat is only suitable for yoga. But we should not discriminate the differences only according to the thickness. Below we will detail the characteristics of yoga mats of various thicknesses.
Polyester suede yoga mats
Advantages
Soft texture: Polyester suede yoga mats have a smooth surface that feels comfortable on the skin, providing a pleasant yoga experience.
Non-slip surface: The texture of the polyester suede cloth is a non-slip surface that can avoid slipping and falling during yoga practice. One kind of the non slip yoga mat.
Easy to clean: These mats can be easily cleaned with a wet towel or mild detergent so that they can be used frequently but still keep clean.
Durable: Polyester suede yoga mats are stable so that they can be used for a long time.
Disadvantages
Less eco-friendly: Polyester suede cloth is not biodegradable; it requires many energies and resources in production.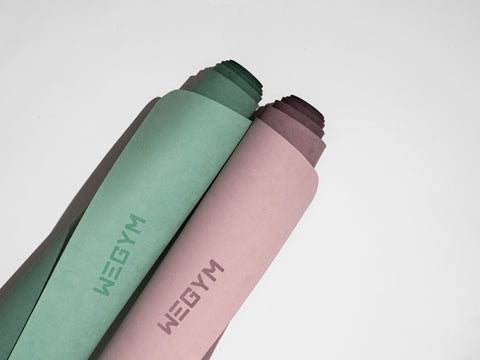 Natural rubber yoga mats
Advantages
Excellent grip ability and a non-slip surface, making rubber yoga mats ideal for sweaty practices. One kind of the non slip yoga mat.
Durable and long-lasting so that they can be used for a long time.
Rubber yoga mats are made from sustainable materials and are biodegradable, which is good for the environment.
Disadvantages
Heavy and dense, making them less portable than other yoga mats.
Have a distinct rubber smell that makes some people feel uncomfortable when doing yoga practice.
May not be suitable for people who are allergic to latex.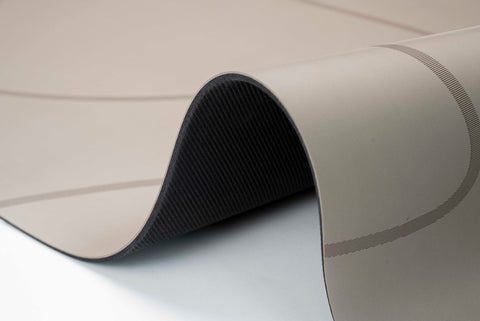 Fabric material yoga towel
Advantages
This yoga towel has an anti-skidding pellet, is fragile, and is much easier to clean and maintain. These thin yoga mats are portable and very suitable for outdoor yoga.
Disadvantages
The thickness and portability of these thin yoga mats make them unsuitable for daily use, which may not protect yoga fans when doing yoga. It is too narrow, and it is with poor skid resistance. This kind of thin yoga mat is only recommended to senior yoga fans and those who do yoga in outdoor life very often. They have a high demand for the portability of yoga mats.
WEGYM yoga mat series products are not only non-slip but also made of natural rubber, providing a firm grip that makes you safer when practicing yoga. Also, it is environmentally, skin-friendly, non-toxic, and tasteless material. These two kinds of materials and five colors are available in two all-natural rubber texture series and natural suede rubber skin-friendly series, 4MM comfortable thickness and 66CM widened, which can protect human joints and provide more flexibility during exercise. Click here to view more about WEGYM thin yoga mats.
How to Choose Suitable Thickness Yoga Mats?
4-6mm: This is the standard thickness; most yoga mats are made in this thickness. It is the most suitable thickness and ideal for all-level yoga fans.
8mm: This is the most common thickness, and it is suitable for junior yoga fans.
10mm: This thickness is suitable for yoga fans with knee problems. It is with good elasticity.
15mm: This thickness is not recommended for yoga fans; it will be much more suitable for other exercises like rope skipping.
How to Choose a Suitable Size for Yoga Mats?
Yoga fans should choose a suitable yoga mat size according to their height. Yoga mats are usually in below size: 61cmx173cm or 61cmx183cm. 61cmx173cm is enough for most female yoga fans.
How to Clean and Maintain Your Yoga Mats?
Yoga fans should clean their yoga mats thoroughly every few months according to usage frequency. Choose dish soap or another soft detergent to clean your yoga mats. Please do not use excessive detergent when you wash yoga mats; it will make them slippery. And please choose a soft cloth to clean it; you can mainly clean the area where hand and foot touch frequently; such site can be distinguished easily for that it will be in the more profound mark. You must clean the detergent thoroughly and then use a dry and soft cloth to wipe dry yoga mats. Finally, please lay yoga mats flat to dry.
By following the tips mentioned above, you may have some ideas about choosing suitable yoga mats for yourselves, especially if you are a junior yoga fan. Also, you may get the correct method to clean and maintain your yoga mats so they can be used for a long time in good condition.
Read More